We had an interesting afternoon on Monday. My wife spotted a baby moose stranded on a gravel bar in front of our place: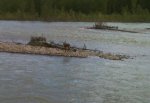 So we gathered some help. Fortunately I had an old tree handy, (doesn't everybody?), and miraculously it was long enough to reach the gravel bar! We were lucky enough to get the help of a couple of my son's friends, with a boat. You can see the plan shaping up.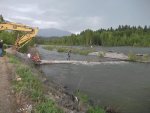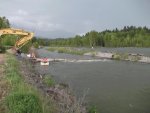 Once the boys were out on the gravel bar, they slowly approached the calf, but despite care the little fella took to the water and came up the bank into the waiting crowd where he was happy to find friends. Here is the youtube bit:
http://youtu.be/VKhjcinDeuE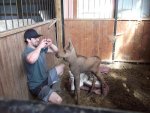 We thought his mom may come by, but she did not and now he is at a rehabilitation farm until the fall when he will be released back to the wild.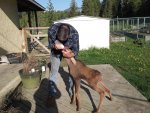 If he promised he wouldn't grow up, we'd have kept him!
Not a normal couple of days!
Last edited: