The Gal's hubby passed 6 years ago apparently, and I guess she figured it was now "time" to let it go ?
So,
I brought it home for less than.... the new "side X side" I was eyeballing ? although, I don't think this is any good in the Bush ?
1969 Dodge Charger R/T SE....Un-Restored...all numbers match.
I guess they call it a "Survivor" Car ??? Whatever THAT means ??(I ain't a numbers Guy)
It Runs and Drives just excellent, seems to need nothing,... very tight & quiet !
It ran a little "rough" when I brought it home...I wondered if it was a Valve ?...did a compression test..ALL Good...So I just put new "points" in it...PRESTO...RUNS PERFECT !
* Original Black(X9) with Black Vinyl Roof(AO1) Tan Interior Car.
* It's been a B.C. Car all it's Life(garaged), with just one re-paint back in 1986.... that is the paint you see here.
* Original Sheet metal...again here, "Un-Restored" with a great Trunk Floor, Drops, etc., ALL GOOD shape and Original.
* Original Numbers Matching 440 Magnum Engine, never rebuilt or taken out of the Car, runs very well, Boils the Balonies at will.
* Original Numbers Matching H.D. 727, dunno if ever rebuilt but it sure does shift clean & crisp.
* Factory Tinted Glass
* Stripe Delete Car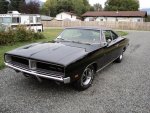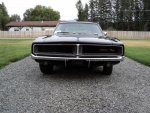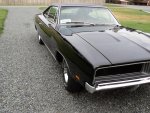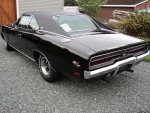 Last edited: